At the start of July I had a chat with kiwi ex-pat and Melbourne resident glitch-master, Opiuo, just before his Christchurch set at Concrete Club. He's currently touring to promote his new album 'Slurp And Giggle' and he is such a lovely chap!
The interview is currently on the Starlifter Radio playlist or you can download it from here:
MP3: Interview with Opiuo – 'Slurp And Giggle' album launch
Enjoy the interview and download his tunes yo!
For more Opiuo awesomeness check out…
His official site: www.opiuo.com
Buy his new music: www.addictech.com/store/index.php?featureID=159
Download his free music: www.deliciousmusic.co.nz/artists/opiuo
Peace,
Dr H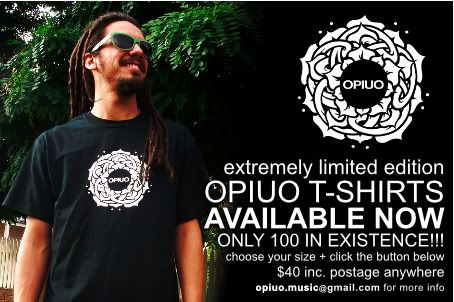 Just in time for the 2010 Summer Festival season my good man Opiuo has some fantastic T-Shirts for sale. Opiuo is one half of Sun:Monx (you might have caught them playing at The Dux in Christchurch earlier in December) and as Sun:Monx they've just released a free EP via Bandcamp – http://sunmonx.bandcamp.com
There is a VERY limited run of "OPIUO" t-shirts available! Only 100 in existence. First in first served. Also, the first 15 sales get a exclusive Opiuo 2009 mix CD.
The T's are Black Gildan 2000 short sleeve t-shirts with White 16 x 16 cm logo. In S, M, L, XL.
$40 (including postage) anywhere.
To buy a T-Shirt visit: www.opiuo.com and in the 'About OPIUO' section select your size, and then proceed to the checkout with the 'Add To Cart' button. Be sure to include all postage details to ensure the T's makes it to you. A follow up email will be sent once the payment has been received and t-shirt shipped.
So there you go, rad tees and fantastic free tunes for summer. Moist Royce!
Peace,
Dr H
Ex-kiwi kat Opiuo is back in Christchurch for rad little pizzle in the hizzle! Come drizzle ya sizzzle yo! Thanx DeliciousMusic.co.nz!!!
Here are the deets:
10pm, Friday, August 14 @ Double Happy
Party number 2 in the Delicious Music "LIVE" series… this time, we're stoked to announce we're bringing 'OPIUO" over from Melbourne, Australia.
This guy has been smashing clubs and outdoor festivals all over Australasia and we're stoked to bring his unique blend of glitchy breaky goodness to Christchurch.
Check his profile at http://www.deliciousmusic.co.nz/opiuo or http://www.opiuo.bandcamp.com
Line up:
10pm – Dr Hitchcock (https://www.starlifter.tv)
11pm – TwEQ (http://www.deliciousmusic.co.nz/tweq)
12am – Mr Squatch (http://www.deliciousmusic.co.nz/mrsquatch)
1.30am – OPIUO LIVE! (http://www.deliciousmusic.co.nz/opiuo)
3.00am – Isaac Chambers (http://www.deliciousmusic.co.nz/isaacchambers)
4.30am – Psymon Barnet (http://www.deliciousmusic.co.nz/psymonbarnet)
And last, but not least: Ezra Holder (http://www.livestream.com/delicious_tv
Peace,
:: Dr H