Howdy there! Dr Hitchcock here.
So it's like the something of March 2011 and I've finally got round to posting something here in the blog for Starlifter Radio. Man it's been a hectic couple of months. I guess it always gonna be moving countries and over a great body of water. Well, we finally made the big move back to Melbourne from Christchurch. And just in time as it turned out. Late in February Christchurch was hit by another massive earthquake, more destructive than the one in September. Although our immediate families and loved ones are alive we do know of people who are not. Our hearts and thoughts go out to all who lost people in the quake. It sucks, it's hard and we really do feel for you. Believe it or not but almost 80,000 people have temporarily moved out of the city… 80,000, that's almost a fifth of the city. Freakin' woah! If you do want to help the people of Christchurch recovery from this traumatic event please try and help where you can or donate to the NZ Red Cross [www.redcross.org.nz].
Now on to the tunes, there are a few Christchurch gems in there, a new track from Muzai Records signed Sherpa, an oldie from Blonde Redhead, a remix of the original earthquake track by Circuit Bent, a new one from the new Siriusmo album and a dirty ole demo from Shocking Pinks first album, Dance the Dance Electric. Oh, and we have the latest podcast from Indie Slut, host o f Human Pleasure at Hourly Rates on RDU 98.5 FM. Jah bless you uncle!
So much love and peace,
Dr H
xoxox
New songs just added to the Starlifter playlist
Song – Artist – Misc
Crazy Love – Colder
Us Against The City (Demo) – Shocking Pinks
Turn – My Disco
Batman Through A Telescope – Sherpa
Futurism Vs Passeism – Blonde Redhead
It's A Wilderness… – APTEKA – http://apteka.bandcamp.com
How Ye – Die! Die! Die!
NROB BMUD – Regurgitator – http://regurgitator.bandcamp.com
Streetlighter – Golden Glow
Oh No – Mother & Father
When the Going Gets Tough, the Tough Get Karazzee – !!!
Corner Of The Sky – Cut Copy
CHCH Earthquake Tune (Circuit Bent Remix) – Tom Cosm – http://soundcloud.com/tomcosm/chch-earthquake-tune-circuit
Mosaik – Siriusmo
Vanilla Minus – Gold Panda
Pepperland – The Beatles
Light Pattern – Bonobo
Hannibal – Caribou
Give Up The Ghost – Radiohead
Pedestal – Portishead
Protection – Massive Attack
Rovor – Bop
Unsolved Remained – Masha Qrella
With extra an extra special podcast from Indie Slut!!!
'Human Pleasure at Hourly Rates' Podcast – Monday, March 7th 2011
Artist – Song – Release
Lumerians – Burning Mirrors [Transmalinnia LP]
That Ghost – After Passing [Songs Out Here LP]
Xray Eyeballs – Crystal [Crystal 7″]
The Brian Jonestown Massacre – Iluminomi [Iluminomi single]
Televised Crimewave – Objects of Desire [Different Times LP]freedownload
thee spivs – Radio [Taped Up LP]
Exlovers – Blowing Kisses [single]
Cats Eyes – Cats Eyes [Cats Eyes EP]
Remodel – Situational Tragedy Pt 2 [Statues LP]
The Sorry Kisses – Sunstorms [Keep Smiling LP]
Colleen Green – Dance the Night Away [Green One EP]
The Two Koreas – Midnight Brown [Science Island LP]
The Sunday Reeds – Get Nothing Done [Dark Rainbows EP]
Beach Fossils – Fall Right In [What a Pleasure EP]
Craft Spells – The Fog Rose High [Idle Labor LP]
Bass Drum of Death – Get Found [GB City LP]
First Love, Last Rites – Slow Wind [S/T LP]
The Chapman Family – Anxiety [Burn Your Town LP]
Low – Witches [C'mon LP]
Wye Oak – Dog Eyes [Civilian LP]
Davila 666 – Los Cruces [Tan Bajo LP]
Frankie And The Heartstrings – Possibilities [Hunger LP]
Chixdiggit! – Found Love [Safeways Here We Come LP]
Cold Cave – Underworld USA [Cherish The Light Years LP]
Noah And The Whale – Give It All Back [Last Night On Earth LP]
Martial Canterel – You Today [You Today LP]
Tim Cohen – Hey Little One [Magic Trick LP]
Kurt Vile – Peeping Tomboy [Smoke Ring For My Halo LP]
Ride – Vapour Trail [Nowhere 20th Anniversary reissue LP]
Banjo Or Freakout – Black Scratches [Banjo Or Freakout LP
The Pains Of Being Pure At Heart – Belong [Belong 7″]
Foot Village – Lovers With Iraqis [Lovers With Iraqis 7″]
Girls Names – Seánce on a Wet Afternoon [Dead To Me LP]
Hunters – Brat Mouth [Hunters Ep]
Muncie Girls – First Things First [Muncie Girls LP]
Rafter – Oh No [Quiet Storm LP]
The Lovely Eggs – Why Don't You Like Me? [Cob Dominos LP]
The Sky Drops – Explain it to me [Making Mountains EP]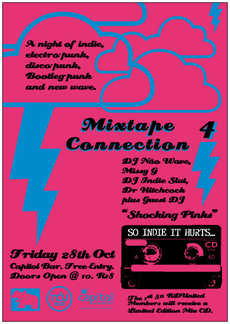 I was just going through all my old CDs and compilations I've put together over the years and came across this little bad boy, Mixtape Connection Vol. 4. This has recently been added to the StarlifterRadio.com playlist and is yours for the listening. This was a rad little mix I did for one of our Mixtape Connection club nights that we were hosting down at Capitol Bar back in 2005. Our special guest that night was Nick Harte aka Shocking Pinks (DFA Records). Now the tunes are great, my listing of the tracks somewhere useful — not so. So I don't have any tracklisting for it, soz. The mix also contains a sample of James Murphy being interviewed by Nick D on 95bFM in Auckland, NZ. Rad!
Here are some links about some of what was going on in our Mixtape Connection crew at the time, including a few photos 🙂
http://obscure.co.nz/events/mixtape_connection_vol_4
http://guitar-media.blogspot.com/2005/11/mixtape-connection-vol-4-281005-photos.html
http://blogs.myspace.com/index.cfm?fuseaction=blog.view&friendId=7814124&blogId=56901169
http://blogs.myspace.com/index.cfm?fuseaction=blog.view&friendId=7814124&blogId=55934346
Enjoy <3
CHARTFEST 09 is happening tomorrow yo and it's gonna be BUSY! Jeff Fulton and the team at CHART – christchurchmusic.org.nz have been working well hard to get some serious action happening here in Churchtown. Mad big-ups, props and totz lolz to them!
Chartfest is a multi staged music festival AND music industry expo. Shocking Pinks (who played a FAB set at The Media Club on Saturday night), Isaac Chambers, Maitreya, Rare Shot Blue, and Tim Moore are some of the bands I'm most looking forward to see play. Industry-side the key things to check out are the Media and Promotion Q&A at which I'll be making a cameo as well as the 'How To Break Into The Australian Market' session. There will be plenty of seriously on-to-it peeps at these sessions so be sure to make an appearence if you're a musician or band in Christchurch trying to make things happen.
Here are some details:
Media & Promotion Workshop (5.00pm – 5.30pm)
Want to know how to pitch your music to radio and print media? Find out the right way to do it with David Saunders(CPIT/MC) Vicki Anderson (Music Editor, The Press), Benet Hitchcock (PD RDU98.5FM/Starlifter.tv), Kirsten Johnstone(Music101 RNZ), Fleur Jack (KiwiFM) and Richard Bell (Shuriken).
NZMC & MMF 'How To Break Into The Australian Market' Seminar (6.00pm – 7.00pm)
The New Zealand Music Managers Forum and the NZ Music Commission are proud to present the May Music Month Seminars 'How to Break Into the Australian Market'.
Speakers are Sashya Jayawardena (Tour Manager / Promoter and Event Manager Australia), Chris Wu (Popfrenzy Australia) Brent Harris (Cut Off Your Hands), Chris Gough (Native Tongue Music Publishing), Teresa Patterson (CRS Music Management).

Topics include:
* Where do I begin? – what are your first steps to take to get over the ditch to either release a CD or do some gigs.
* The Australian Media – a run down of who is who and the best media to target (Radio, Street Press, TV, Newspapers, Magazines, Internet).
* Touring Australia – how hard is it to book a tour. What would be the best way to start touring Australia? What sort of fees can you expect?
* Promoting your Music – how do you start promoting your tours/album releases.
* The Australian Industry – who are the movers and shakers in Record Companies, Booking Agencies, Promoters, Publicists. More details here.
For more info check out:
http://www.christchurchmusic.org.nz/events/chartfest09
http://www.christchurchmusic.org.nz/events/chartfest09/artists