Total radness party people!
Since May 2009 Delicious Music – deliciousmusic.co.nz – has been one of the best online places to get tunes from your favourite kiwi-tronica (and a few rock'n'roll) artists, all for free and all legit. As of this week Delicious became much sweeter. With a smooth new look and just in time for May, NZ Music Month, you can now listen to Delicious artists via a fancy new player, log-in easily with your Facebook account and if you want, show support for your fav Delicious artist by donating a bit of cash, with all money donated going to the artist, good on ya mate
To celebrate this grand new revamp all this week on StarlifterRadio.com we'll be exclusively playing Delicious Music artists. To tune in simply visit: www.StarlifterRadio.com or to listen in iTunes or Winamp click here.
Below are some of the songs and artists that are currently on the StarlifterRadio.com playlist:
Tom Cosm vs Circuit Bent – Bent Cosmos
Mr Squatch – Herbal T
Sunmonx – Schticky Digits (Delicious Edit)
Module – All This Time (Tom Cosm remix)
Sharkweek – Small Firm Peppermints
N.A.M.E – N.A.M.E.less
Ghost – Return Journey
Flaxnation – Kahwai
Herbal T – Herbert
Mr Squatch – There Is Wobble In My Dreams
Pikachunes – Fire
Tom Cosm and Hannah Flatman – The Opaque Dub
Rare Shot Blue – Ova Load
N.A.M.E – What are we Talk'n
MDT – Profeshanal
Spoonhead – EXPLORATION
Rare Shot Blue – Sword
Pieter Borgh – ATIKA
Module – stars and sky (Invader Tron remix – radio edit)
Isaac Chambers – Vibe-braker 2
Ed Muzik – Filth
MDT – Crimson Sparkles
Sharkweek – Robospacejesus
Herbal T – deceptive
Invader Tron – Journey to the Secret Sky
Pikachunes – Shout It
Isaac Chambers – aFRO sQUELCH fUNK7
VIBRASPHERE – wasteland (Fiord Rmx)
Antix-Fiord – KARMIKLOOPS (Fiord remix)
Pikachunes – You Are
Pieter Borgh – FRANKY
Ghost – Daze
So there ya go. More rad electronica for ya, more fun things to do online.
Peace,
Dr H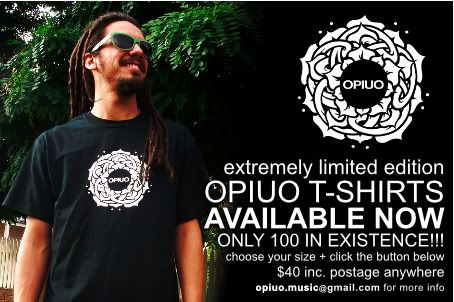 Just in time for the 2010 Summer Festival season my good man Opiuo has some fantastic T-Shirts for sale. Opiuo is one half of Sun:Monx (you might have caught them playing at The Dux in Christchurch earlier in December) and as Sun:Monx they've just released a free EP via Bandcamp – http://sunmonx.bandcamp.com
There is a VERY limited run of "OPIUO" t-shirts available! Only 100 in existence. First in first served. Also, the first 15 sales get a exclusive Opiuo 2009 mix CD.
The T's are Black Gildan 2000 short sleeve t-shirts with White 16 x 16 cm logo. In S, M, L, XL.
$40 (including postage) anywhere.
To buy a T-Shirt visit: www.opiuo.com and in the 'About OPIUO' section select your size, and then proceed to the checkout with the 'Add To Cart' button. Be sure to include all postage details to ensure the T's makes it to you. A follow up email will be sent once the payment has been received and t-shirt shipped.
So there you go, rad tees and fantastic free tunes for summer. Moist Royce!
Peace,
Dr H